Click here to return to the interactive map page.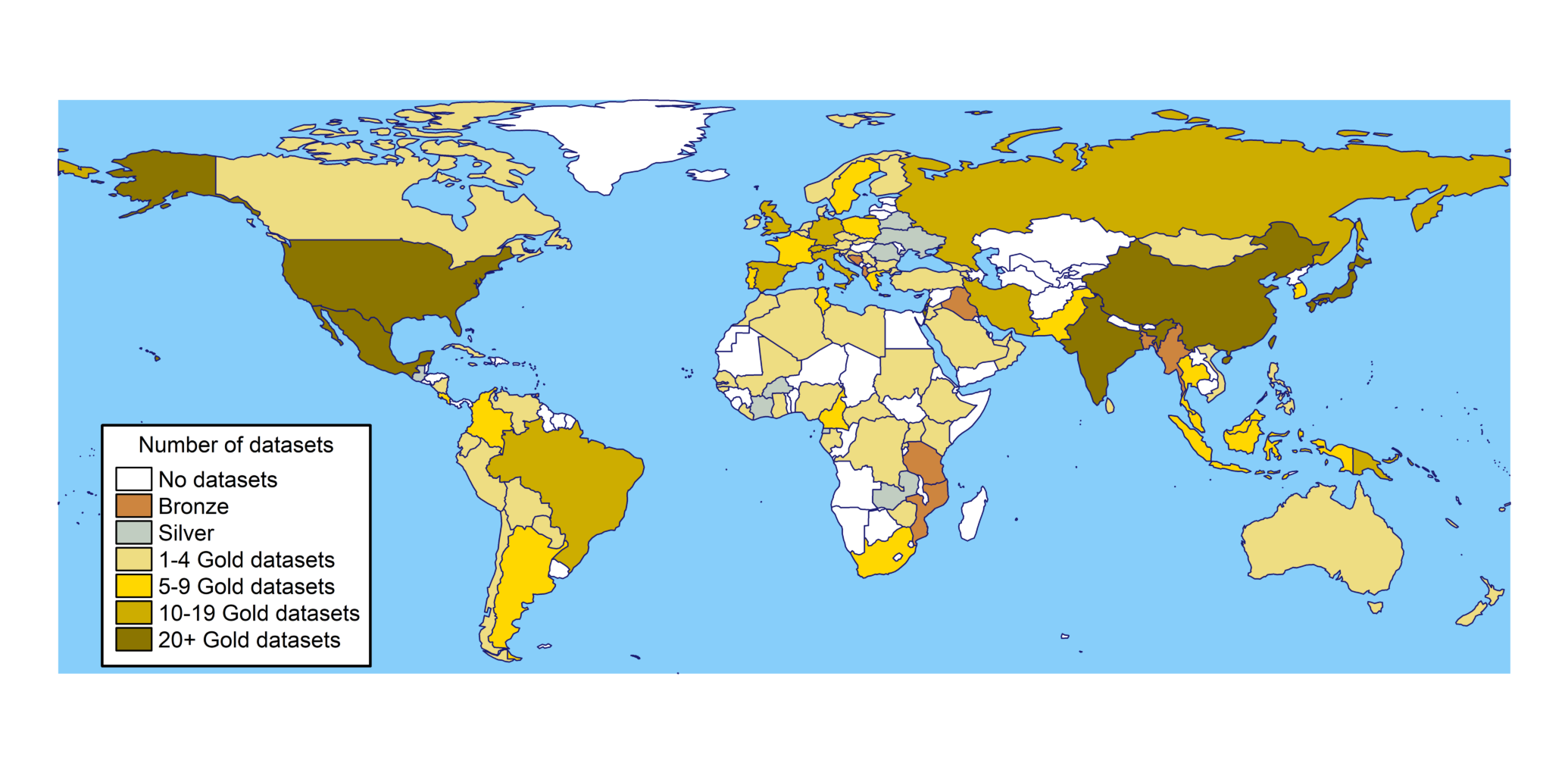 Geographic heatmap of the number of population datasets by country for classical HLA loci.
Gold, Silver and Bronze classification criteria are given
here
and described in
Santos, McCabe, Gonzalez-Galarzac, Jones, Middleton (Human Immunology, March 2016)
We have no Gold Standard data for any of the following territories :- Those with Silver or Bronze standard data are marked with an icon.
Bangladesh
Egypt
Myanmar
Ukraine
Tanzania
Afghanistan
Nepal
Uzbekistan
Iraq
Democratic People's Republic of Korea
Yemen
Romania
Mozambique
Syrian Arab Republic
Madagascar
Ivory Coast
Angola
Kazakhstan
Burkina Faso
Cambodia
Niger
Malawi
Guatemala
Zambia
Chad
Hungary
Dominican Republic
Belarus
Haiti
Guinea
Somalia
Benin
Burundi
Azerbaijan
Tajikistan
Honduras
El Salvador
Togo
Lao People's Democratic Republic
Sierra leone
Kyrgyzstan
Scotland
Turkmenistan
Eritrea
Palestine
Moldova
Puerto Rico
Bosnia and Herzegovina
Congo, Republic of the
Lithuania
Uruguay
Albania
Mauritania
Kuwait
Wales
Latvia
Namibia
Lesotho
Botswana
Estonia
Trinidad and Tobago
Mauritius
Timor-Leste
Swaziland
Cyprus
Qatar
Bahrain
Guyana
Montenegro
Comoros
Bhutan
Equatorial Guinea
Djibouti
Solomon Islands
Macau
Western Sahara
Luxembourg
Suriname
Malta
Guadeloupe
Brunei Darussalam
Bahamas
Iceland
Maldives
Barbados
Belize
French Polynesia
Vanuatu
French Guiana
Netherlands Antilles
Mayotte
Guam
Saint Lucia
Saint Vincent and the Grenadines
Virgin Islands (U.S.)
Micronesia, Federated States of
Grenada
Aruba
Antigua and Barbuda
Northern Mariana Islands
Andorra
Seychelles
Dominica
Bermuda
Marshall Islands
Greenland
Saint Kitts and Nevis
Faroe Islands
Cayman Islands
Liechtenstein
Monaco
San Marino
Gibraltar
Virgin Islands (British)
Turks and Caicos Islands
Palau
Wallis and Futuna Islands
Anguilla
Tuvalu